Please fill out the short Email form below and we will do our absolute best to respond to your inquiry within 12hrs of receiving this Form. We are checking incoming requests from customers around the clock, and aim to provide the best possible Customer Service we can. Thankyou.
IMPORTANT NOTE Regarding our contact Phone Number. PLEASE READ: You may contact us by phone if you like, but please only do so if you REALLY, REALLY HAVE TO or in case of emergency (Example: if you have not heard from us within 72 hours after placing an order). We ALWAYS reply to emails sent from the form below within 12 hours normally, so rest assured, you WILL hear from us via email with the best customer service available.
We are physically located in Australia, but our products are stored and shipped from our warehouse in Arizona USA.
Having said that, and because of the time difference between your country and ours, it may be a problem if you call us, as we are approximately 9.5 hours ahead of the USA time.
If you really have to call us, your most welcome to do so, but please use This World Wide Time Tool found here before you call us to see the current time in Adelaide, South Australia before you call. Our office hours are from 9am to 5pm 7 days a week.
Our phone number is: 610882977114 or you can call me on my cell phone at: 610402031736 You may need to put our country code in front of these numbers before you dial, it is: +61
If for some reason we do not answer when you call, please leave a massage with your full name and phone number (including country code) and we will get back to you as soon as possible.
Thankyou for your understanding ;-)
Kind regards Antonio (Administration)
---
Please fill out the short Email form below, we will respond within 12 hours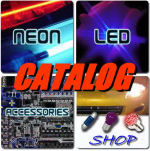 Click here to Return to the All-Neon-Car-Lights.com Home Page.