Use neon wires (el wire) to edge every curve of your vehicles contour - Create a glowing outline of your vehicle, or use these neon colored wires to highlight your cars best features.
Electroluminescent wire, or commonly known as el wire or el cable, looks similar to neon but has the flexibility and versatility of soft wire. It generates no heat, is non-toxic, can be applied to just about any surface, and produces a true 360 degree radiant soft NEON glow. El wire is durable, weatherproof and has a very low current draw. About 120 feet uses less than a 1 amp fuse.
You're sure to get noticed with neon string lights.
Accent the interior of your vehicle by stringing neon colored wires over the dash, steering wheel, door panel, or anywhere else.
Take passengers for the ride of their life inside your glowing, vibrant vehicle with neon colored wires accenting every feature. And give your car's interior an added edge by lighting it up for competition or just to show off to friends.
Neon colored wires are power efficient and come in a variety of colors to fit your cars appearance.
So string your car up today with our vast selection of neon colored wires.
Custom Interior Lighting for Cars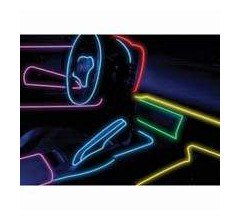 Neon Glowire

Light up the interior of your car, truck, boat or motorcycle by stringing neon colored wires over the dash, steering wheel, door panel, or anywhere else that your imagination allows!

Price:
$39.99USD for 5-feet of wire, and
$49.99 for 10-feet of wire.
On Special! This week only. Hurry!
---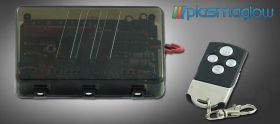 The 12V Remote Controller Kit

The 12v Remote Control Wireless Commander is the only way to wirelessly control any 12 Volt products from up to 500 ft away. It features 3 wireless zones so you can control your 12v accessories separately from a distance.

Kit Price:
$139.00USD On Special! - STOCKS WILL NOT LAST!

Click for product info and to Order...
---
Be sure to check with your State Road Laws in regards to having neon/LED lights on your Vehicle.