Need spare parts for your car lighting accessories? Well we have all the parts you will need.
The parts listed below
are for Neon & LED accessory kits that are sold on this website.
These spare parts are supplied to you from the leading Manufacturer in the car lighting Industry, Plasmaglow. They are built on a foundation of quality and performance. Plasmaglow have worked extensively to earn the reputation of having the highest quality Neon/LED Products and Xenon Bulbs at the most competitive prices.
All necessary instructions and hardware are included to ensure a smooth installation and are backed up with the PlasmaGlow Liftime Warranty.
Free Shipping within the USA on ALL orders OVER $50.00USD
International Customers may be subject to additional shipping fees. If additional shipping fees are applicable they will be added to your total in the "VAT" section of your shopping cart before you continue to the check-out.


All products are shipped via Fed-Express to assure you a Speedy & Safe delivery.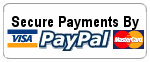 We process Visa & MasterCards through PayPal. Please Click Here for other payment methods, otherwise, proceed below with your order.
Spare Parts:
---
Process Your order Below.10,000V Platinum Series Under Car kit Transformer. $69.00 USD

--------------------------------------------

7 Color changing LED Digital Control Box $99.00 USD

-------------------------------------------

Single Color LED under car Kit Digital Control Box $79.00 USD

-------------------------------------------

2.1 Million Color LED Digital Control Box $109.00 USD

-------------------------------------------

LED Kit Distribution Block $12.99 USD

-------------------------------------------

LED Kit Ribbon Cable $12.99 USD

--------------------------------------------

LED Kit Extension Cable (2-foot) $6.99 USD

--------------------------------------------

LED Kit Extension Cable (4-foot) $9.99 USD

---------------------------------------------

7 color changing Under Car kit 50" replacement Tube $89.00 USD

--------------------------------------------

7 color changing Under Car kit 30" replacement Tube $79.00 USD

-------------------------------------------

2.1 Million Color changing Under Car kit 30" replacement Tube $89.00 USD

-------------------------------------------

2.1 Million Color changing Under Car kit 50" replacement Tube $99.00 USD

--------------------------------------------

Platinum Neon Under Car kit 50" replacement tube $59.99 USD

---------------------------------------------

Platinum Neon Under Car kit 38" replacement tube $49.99 USD

---------------------------------------------

Single Color LED Under car Kit 50" replacement Tube $79.00 USD

---------------------------------------------

Single Color LED Under car Kit 38" replacement Tube $69.99 USD