LED Grille Lights will give your truck or car a look that will make it stand out from the crowd. The ThunderGrille LED Kit has ultra-thin LED Strips which mount in any grille. You can wire it using the included switch, and connect it to your battery, or directly into your running lights so it turns on with your vehicle.






It is a simple 2-wire hookup that anyone can do with the detailed instructions in the box.

The Grille light strips are each 10 inches (25cm) long, flexible, and 100% waterproof. Everything you need is in the box (LED Strips, several mounting methods, wiring and switch).

There are 2 kits available. For smaller grilles on cars, there is a 2-Piece Version. For trucks and larger vehicles, there is a 4-Piece Version.

Available in multiple colors – Lifetime Warranty




The ThunderGrille LED kits includes all necessary hardware and instructions for quick installation. You just need to tap into any power source! Make it turn on with your headlights, blinkers? dome lights?... anything you want!

LED Grille Lights are backed up with the PlasmaGlow Lifetime Warranty!




Want the ability to control this kit from "OUTSIDE" your car, and up to 500 feet away? Then get the 12V Remote Controller NOW!



---




Kit Prices:
$39.99USD for a 2 piece kit, and
$79.99 for a 4 piece kit.
On Special! This week only. Hurry!

Free Shipping within the USA

International Shipping Charges will be shown at Check-Out as ""SHIPPING & HANDLING" or as "VAT" (NOTE: this is NOT Tax).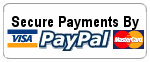 ---
Process Your order Here:
---

LED Grille Lights - Back to Home Page