Bring the power of PlasmaGlow Technology to your interior with Color changing LED Glostix Tubes!
Connect them to your existing 2.1 million Color digital control box and watch the bright colors cycle and move for a fantastic light show in your vehicle! You can also combine these LED Tubes with our new "2.1 million Color Under Car Kit" for an unmatched show of light! The color changing GloStix tubes feature all 14 modes, 11 speeds and display all 2.1 million colors in one tube!

All you need, in order to run these Glostix tubes, is a 2.1M color LED Digital control box *OR* a 2.1M Color changing LED Undercar Kit, (which allready has the Digital Control Box in the kit), and your ready to go!

Or you can purchase both the Glostix & the Digital Control Box as a Package and SAVE!

* 2.1 Million colors in one tube!
* 14 modes!
* 11 speeds
* Ultra-Bright LED's

All necessary instructions and hardware are included to ensure a smooth installation and are backed up with the PlasmaGlow Liftime Warranty.

The Color changing LED Glostix Tubes come in three different sizes of 10, 15, and 24 inches.




Want to be able to control this kit from outside your car, and up to 500 feet away? Then upgrade NOW with a Wireless Key Chain Controller



Price:
$49.99USD for a 10" Glostix
$59.99 for a 15" Glostix and
$69.99 for a 24" Glostix.
On Special! This week only.

Free Shipping within the USA on ALL orders OVER $50.00USD

International Customers may be subject to additional shipping fees. If additional shipping fees are applicable they will be added to your total in the "VAT" section of your shopping cart before you continue to the check-out.


All products are shipped via Fed-Express to assure you
a Speedy & Safe delivery.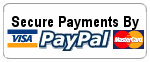 We process Visa & MasterCards through PayPal. Please Click Here for other payment methods, otherwise, proceed below with your order.
---
Process Your order Here:
Back to Catalog Color changing LEDs
---
Back to Top